Already have a credit card with us?
A new login setup is required. Click on "MY ACCOUNT ACCESS" below and then click "Don't have an account? Sign up!" below the "Login" button on the webpage of our credit card partner.
Enhancements now available for WPCCU's credit cards!
Great news! We've enhanced our credit card program to provide cardholders with more options to fit their lifestyle.
Various notifications have been shared by our vendor partner, Elan Financial Services, providing important details about new credit card accounts. We encourage members to review materials carefully to take advantage of the new benefits. Additional details can be found here.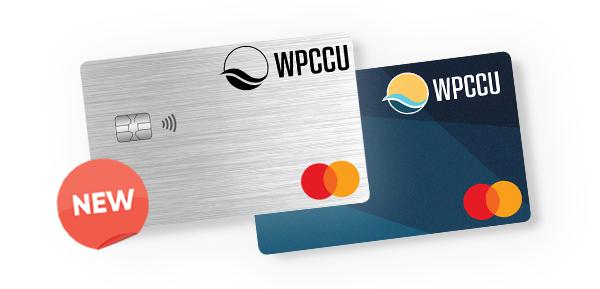 Answers to questions about your new card
What you need to know about this exciting new change to your account.
Q: Why am I getting a new card?
As part of our commitment to providing you with the finest value and most competitive credit card products, we are updating our card program and issuing new cards.
Q: Will my account number change?
Card security is a top priority for us. To help protect your account from fraud, you will receive a new account number and expiration date.
Q: What will happen to my account balance?
All balances will transfer automatically to your new card account.
Q: Will I get a new credit limit?
You will continue to enjoy the same credit limit on your new card.
Q: Will my rates change?
Your rates will continue to be competitive. Please refer to the Important Changes to Your Account Terms, included with the letter mailed to you, for questions about your rates and other pricing information.
Q: Will my payment due date change?
Your due date may change slightly. If you wish to select a new payment due date, you may contact Cardmember Service after you receive your first statement.
Q: Will I need to update my Personal Identification Number (PIN)?
Yes. When your new card arrives, you will receive information on how to quickly set up your new PIN.
Q: Do I need to do anything to get my new card?
There is nothing you need to do. Your new card will be sent to you automatically. When you receive it, be sure to activate it immediately and destroy your old card.
Q: What are the digital payment options?
No matter what type of device you prefer, there's a simple, secure and convenient digital payment option for you. Including Apple Pay®, Google Pay™, Samsung Pay and PayPal.
Q: Where can I learn more?
Check out card.myaccountaccess.com to learn all about the features and benefits of your card.
When your new card arrives...
Call the toll-free number on the card to activate it
If you have a business card, simply sign your new card and begin using it right away
Remember to destroy your old card
Sign the back and it's ready to use
Important note: Correspondence, including new credit cards, will be sent in plain, non-descriptive envelopes without WPCCU's name or logo. This is to avoid unneeded attention to the contents of your mail and to help protect against theft and fraud.
If you use your card to automatically pay bills, be sure to update your new card information with the companies that bill you.
Your updated card comes with a wide range of benefits
Zero liability for confirmed fraud on your account1
Access to cash at ATMs and financial institutions worldwide
Convenient bill payment options
24-hour Cardmember Service by phone
24/7 Online Credit Card Account Access
1 Elan Financial Services provides zero fraud liability for unauthorized transactions. Cardmember must notify Cardmember Service promptly of any unauthorized use. Certain conditions and limitations may apply.
Apple Pay is a trademark of Apple Inc., registered in the U.S. and other countries. Google, Google Pay and the Google Pay logo are trademarks of Google LLC. Samsung Pay is a trademark or registered trademark of Samsung electronics co., Ltd. PayPal is a trademark of PayPal Inc. Other company and product names mentioned may be trademarks of their respective owners.
The creditor and issuer of this credit card is Elan Financial Services, pursuant to a license from Visa U.S.A. Inc. or Mastercard International Incorporated. Mastercard is a registered trademark, and the circles design is a trademark of Mastercard International Incorporated.
© 2023 Elan Financial Services