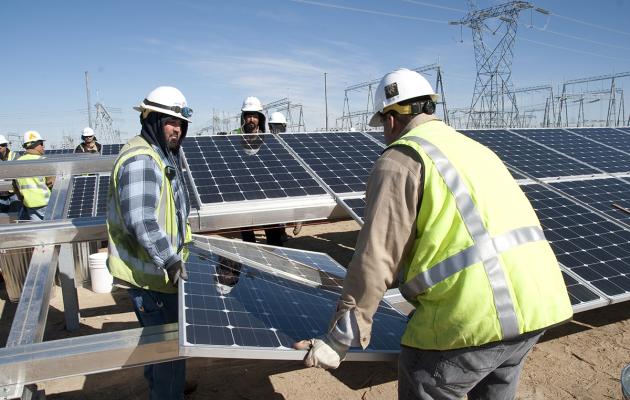 Solar power is like growing your own money
There is nothing like the feeling of watching your solar panels soak up the sun's power and transfer it to your home as electricity. Except of course, the feeling you get when you see how little your monthly power bill has become. You are literally taking the yellow rays of the sun and turning them into green cash for your budget.
Owning your system beats leasing it
Leasing a home solar system is attractive to some because of the monthly cost. But what if you could own your system for basically the same low monthly payment and get the 30% Federal Solar Investment Tax Credit (ITC) as well? That's exactly what WPCCU's Solar Loan was designed to achieve, including eliminating any complication in transferring a solar lease agreement to the buyer of your home.
A Solar Loan from WPCCU is an investment in your financial health that pays dividends with reduced utility bills and higher home resale value.
Learn more about the Federal Solar Investment Tax Credit (ITC).
Quick and easy solar loan checklist
Going solar is as easy as the following steps:
Find a solar company for a complete solar system and installation.
Ask us for a recommendation. We can provide you with a list of preferred solar companies that we work with.
Consider designing, purchasing and installing your own system. Note: you'll need to follow local building codes and some manufacturer warranties require installation by certified installers.
Contact us to help finance your solar project. 
Enjoy your new system with savings from reduced energy bills and tax credits/rebates*.
Connect with a member representative today
Email disclaimer
Water and Power Community Credit Union will never request sensitive information such as Social Security numbers, online banking PINs, passwords, or account numbers by email or text message. Please beware of solicitors who ask for sensitive information. If you receive an email or text message or any other forms of solicitation requesting this type of information, please contact Water and Power Community Credit Union immediately: 800-300-9728. To learn more of our policies please click here >
* Please check with your tax professional.