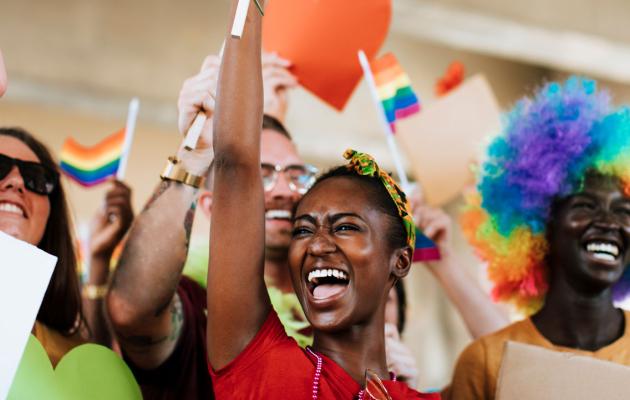 WPCCU celebrates diversity, equity and inclusion. For the month of June we are paying homage not only to a historic-cultural monument The Black Cat; but also three iconic people who were early activists in the lesbian, gay, bisexual, transgender and queer, or questioning (LGBTQ) movement.
Stonewall is popularly known to have launched the LGBTQ revolution. The Stonewall Inn was raided by police on June 28, 1969 in New York City's West Village. They physically assaulted customers there.  However, before Stonewall, there was the Black Cat!
The Black Cat
The Black Cat is in Los Angeles, California, in fact right up the street from WPCCU's Sunset Branch Office in the Echo Park Area. This modest Art Deco building was the site of a 1967 police raid. The Black Cat in the 1960s was a gay bar attracting a largely working class clientele. At a New Year's celebration, eight undercover police officers raided the bar. Patrons were beaten and dragged out into the street.
On February 11, 1967, hundreds gathered outside of the bar to peacefully protest police brutality. This event represents the early evolution of the LGBTQ civil rights movement. The court case related to this incident was the first time in U.S. history that gay men were defended as equal under the U.S. Constitution. The court disagreed. The Black Cat was designated as a Los Angeles Historic-Cultural Monument in 2008.
Bayard Rustin
The modern gay rights movement and the black civil rights movement intersected with Bayard Rustin. A gay advisor to Martin Luther King Jr., he organized the 1963 March on Washington. In 1987, he also brought the AIDS crisis to the National Association for the Advancement of Colored People's (NAACP) attention. He stated, "Twenty five to thirty years ago the barometer of human rights in the United States were black people. That is no longer true. The barometer for judging the character of people in regards to human rights is now those who consider themselves gay, homosexual or lesbian." President Obama posthumously awarded the Presidential Medal of Freedom, in 2013, to him.
First openly gay elected official
In 1977, Harvey Milk won a seat on the San Francisco Board of Supervisors, becoming the first openly gay elected official in California, and one of the first in the country. He served for only one year and then he was assassinated. Before he died, he helped pass the first gay rights ordinance in the country.  It protected people from being fired for their sexual orientation. He also encouraged members of the community to knock down the closet door saying that the single most important political act anyone could take was simply to come out. President Obama retrospectively awarded Milk the Presidential Medal of Freedom in 2009.
Tennis star and activist
Billie Jean King – we know her accomplishments on the tennis court, but she's been a visible LGBTQ activist for decades. She was urged to deny her sexual orientation, but she refused saying, "the one thing my mother always said was, 'To thine own self be true.'"  She became one of the first national sports players to be openly gay. She lost all of her lucrative endorsement deals in the process, and she didn't care. King served as a board member for the National AIDS Fund and the Elton John AIDS Foundation. Her lifetime achievement honors include being inducted in the Chicago LGBTQ Hall of Fame in 1999, and becoming the first female athlete to receive the Presidential Medal of Freedom 10 years later.
Celebrate Pride Month
Join WPCCU in celebrating Pride Month—here's a list of fun events for the month of June! Most of these events are FREE, but please check event details for ticket sale price.
 
PROFUNDITY! Stand-Up Comedy at New Profanity QUEER PRIDE EDITION!
Tue, Jun 14, 7:30 PM
New Profanity • West Hollywood, CA
Pride Movie Nights at Tropicana Pool - The Hollywood Roosevelt Hotel
Tue, Jun 14, 8:00 PM + 2 more events
Hollywood Roosevelt Hotel • Los Angeles, CA
Out of the Closet at The Comedy Chateau
Wed, Jun 15, 7:30 PM
The Comedy Chateau • Los Angeles, CA
Meaningful Networking for LGBTQ Professionals - at the Sofitel
Thu, Jun 16, 6:00 PM
Sofitel Los Angeles at Beverly Hills • Los Angeles, CA
LGBTQ+ and Allies Pride Ride/Fundraiser
Sat, Jun 18, 9:00 AM
Korean Friendship Bell • Los Angeles, CA
PRIDE Hike at Elysian Park in Los Angeles
Sat, Jun 18, 10:00 AM
Elysian Park • Los Angeles, CA
Lakewood's First LGBTQ+ Pride Event
Sat, Jun 18, 12:00 PM
Vida y alma house of beauty • Lakewood, CA
The Wall Las Memorias Pride Fair
Sat, Jun 18, 2:00 PM
2020 1st St • Los Angeles, CA
Sat, Jun 18, 2:00 PM
7891 La Tijera Blvd • Los Angeles, CA
Q Con - An LGBTQ+ Comic Convention
Sat, Jun 18, 10:00 AM
Fiesta Hall • West Hollywood, CA
Our Service, Our Stories: The LGBT Military Experience
Sat, Jun 18, 1:00 PM
Heroes Hall • Costa Mesa, CA
Tue, Jun 21, 6:00 PM
Redline - Food & Bar • Los Angeles, CA
Swiss Film and Talks presents Der Kreis (The Circle)
Thu, Jun 23, 12:01 AM
Los Angeles - Online • Los Angeles, CA
Don't Tell My Mother! Pride Show
Thu, Jun 23, 6:30 PM
Candela La Brea • Los Angeles, CA
Fri, Jun 24, 7:00 PM
Ironbark Ciderworks • Claremont, CA
2nd Annual Stride for Pride 5k Run-Walk
Sat, Jun 25, 8:00 AM
Montebello Civic Center • Montebello, CA
Rainbow Risk Alliance - Royal PRIDE Social
Sat, Jun 25, 3:00 PM
The Abbey Food & Bar • West Hollywood, CA
Shes, Theys, & Gays! Pride Month Edition!
Sat, Jun 25, 8:00 PM
The Comedy Nook • West Hollywood, CA
So We Are Silent Disco - PRIDE NIGHT
Sat, Jun 25, 6:00 PM
2630 E Ocean Blvd • Long Beach, CA
Pride Storytime Workshop (1-day)
Sun, Jun 26, 10:00 AM
Armory Center For the Arts • Pasadena, CA
Greenleaf's Exclusive PRIDE Drag Brunch
Sun, Jun 26, 12:00 PM
Greenleaf Kitchen and Cocktails • Los Angeles, CA
OIT Los Angeles | Pride Networking Social @ GoodRx
Thu, Jun 30, 5:00 PM
GoodRx Office • Santa Monica, CA
Movie Night for LGBTQIA+/Questioning 13-17 year olds!
Fri, Jul 8, 6:00 PM
The Help Group • Los Angeles, CA