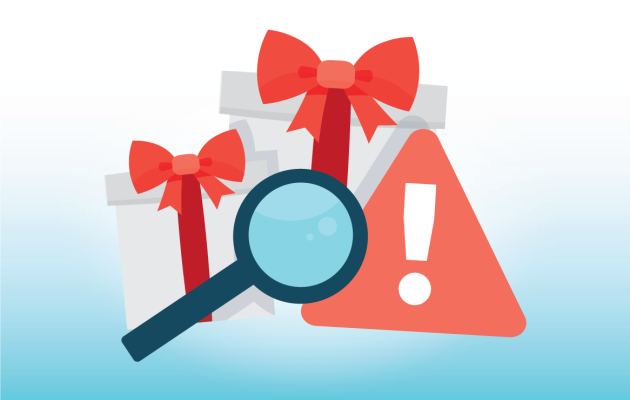 The holidays are a very special time of year for everyone.  Unfortunately, that includes fraudsters and cybercriminals. Why—because the holidays see a tremendous spike in sales as consumers busily try to buy presents for everyone on their list. This sometimes makes us lower our guard and not think twice when we should. The best advice we can give you is to hit pause and beware of the latest scams and fraud attacks.
Read on for a few examples!
Holiday Malvertising
Malicious advertising is a growing issue on the world's most popular search engines. Convincing ads for fake agencies, websites, banks, digital wallets and government entities abound. While many of these are blocked by the search engines, many get through. 
We strongly urge you to type URLs from trusted sites directly into the address bar, versus doing key word searches.
Scam e-Commerce Shops
Surveys are now suggesting that the majority of consumers plan on doing their holiday shopping, digitally, in 2022.  Not only is it convenient, a primary attraction is the possibility of snapping up hard to find products. But—think about this—the majority of people who give up their checking account information or credit card information to these websites or emails that turn out to be phishing emails—never get the merchandise. 
We urge you to only use trusted sites and use protected payment methods when shopping online. Or, maybe just start early and physically go to the store if you can.
Holiday Travel and Vacation Scams
Where do we start with this one? Fraudsters concoct elaborate techniques to create fake hotel or flight listings. The tactics associated with these scams are exhaustive and complex, so be leery of suspicious deals, ads, and emails for all-inclusive promos for vacation rentals, flights and hotels at trendy destinations. 
Please remember the old adage, "If something is too good to be true—it probably isn't."
And, a few more scams that deserve "honorable mention," beware of gift card scams, sweepstakes scams and gift exchange scams. And, sadly, very sadly, scams that involve asking you for donations for charities—perhaps the most despicable one of all. Please ensure you are donating to a reputable charity.
If you suspect you're the victim of identity fraud, contact us immediately. 
WPCCU cares about our members. We care about your financial wellness. Thank you for reading this article.
Happy Holidays!
Sincerely,
Water and Power Community Credit Union