Keep healthcare heroes safe
Our goal together is to generate an additional 20,000 face shields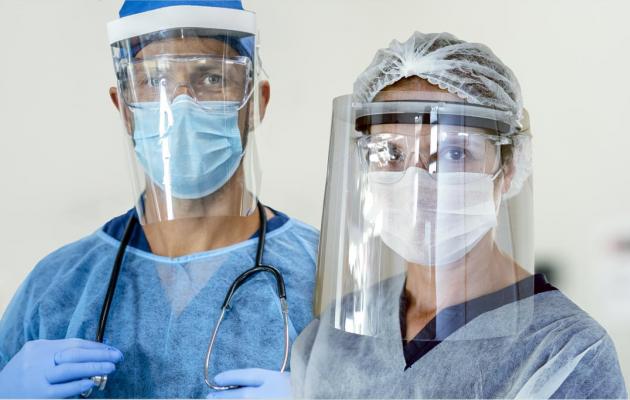 FOR IMMEDIATE RELEASE
August 28 , 2020
LOS ANGELES, CALIFORNIA – Water and Power Community Credit Union (WPCCU) announces a public fundraiser campaign in support of the Los Angeles Cleantech Incubator (LACI) efforts to help alleviate the shortage of personal protective equipment (PPE) due to the COVID-19 pandemic. As the credit union builds on our partnership with LACI, the work that they're doing for this initiative is a great collaboration for a meaningful solution to this current health crisis.
All donations will directly cover the cost of materials and manufacturing. Members of the public have the opportunity to donate directly to LACI's PPE efforts, and WPCCU will match the first $1,000 raised. No amount is too small. Anyone can make a difference and donate now at wpccu.org.
As WPCCU Vice President of Marketing, Celeste Zibelli shared in an interview, "Most of us will never be able to imagine what it is like to put our life on the line—every day.  Health care workers can.  Please, please join with WPCCU and donate so we can collectively help them."
Our goal together is to generate an additional 20,000 face shields to be donated to Los Angeles County frontline medical workers fighting the resurgent COVID-19 pandemic. LACI will significantly increase reusable face-shield production capacity in their Advanced Prototyping Center (APC), a $10M+ prototyping facility housed at LADWP's La Kretz Innovation Campus in DTLA. Face shields are distributed to LA County hospitals via Los Angeles Public Library and Greater Los Angeles Hospital Registry.
During the first phase of production, the innovative PPE was field-tested by doctors at Cedars-Sinai Medical Center and, with the generous support of Metabolic Studio and Snap Inc., over 10,000 reusable face shields were produced and distributed to Los Angeles County hospitals.
About Water and Power Community Credit Union
Water and Power Community Credit Union (WPCCU), headquartered in Los Angeles, is committed to the safety and well-being of the Los Angeles Community, its members and staff.  WPCCU was formed in 1936 by a group of employees of the Department of Water and Power in downtown Los Angeles. All people who live, work or go to school in Los Angeles County can open an account. Currently, assets are over $845 million and the credit union serves nearly 40,000 members.
About Los Angeles Cleantech Incubator (LACI)
This initiative – convened and led by LACI – models how the organization endeavors to forge collaborations between entrepreneurs, artists, philanthropy, government, and community leaders coming together for community action to tackle daunting challenges, whether it be the pandemic or the climate crisis. Going forward, it will serve as a model for effective community action and innovation in the face of daunting challenges, including climate change.
###