National Disability Employment Awareness Month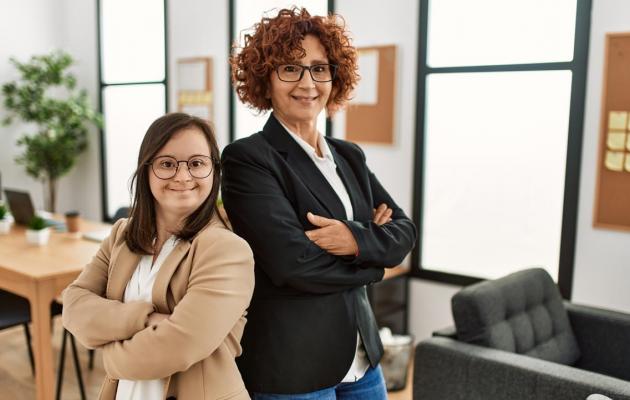 In October, we pay tribute to those who succeeded and are succeeding against all odds, and those who championed their causes. The people illuminated below have overcome everything from blindness, to schizophrenia; to physical impediments to intellectual disabilities.   
Eunice Kennedy Shriver
In 1957, Eunice Kennedy Shriver took over the direction of the Joseph P. Kennedy Jr. Foundation and immediately focused her attention on helping children and adults with intellectual disabilities (formally known as mental retardation). The world would learn that this cause was a very personal one for the Kennedy family as Eunice's sister—also U.S. President John F. Kennedy's, Bobby and Ted Kennedy's was intellectually disabled. The light was shown on this cause and millions of parents and siblings were given hope that their loved ones who had intellectual disabilities no long needed to feel ashamed or guilty. They no longer had to live in the shadows.
One of the many ways Eunice helped advance this cause was to create what we now know as the "Special Olympics."  It all started as a summer camp called "Champ Shriver." By March of 1968, Eunice held a press conference announcing plans for what eventually would be called the first "Special Olympics Games" for children with intellectual disabilities. Fast forward to today, Katherine Schwarzenegger (granddaughter of Eunice Shriver) and her husband, Chris Pratt are now the Global Ambassadors for Special Olympics and will continue Eunice's cause.
Alice Wong
Alice Wong, who has spinal muscular atrophy, is a research consultant and disability rights activist based in San Francisco. In 2014, on the 25th anniversary of the Americans with Disabilities Act of 1990, she founded the Disability Visibility Project. It works to 'create, share and amplify disability media and culture' by collecting historical recordings of interviews with disabled people in the United States.
Alice has a Master's of Science in medical sociology and worked as a researcher at a university for 10 years. During that time she was involved in a number of disability-related research projects and co-wrote numerous research papers.
She has been recognized for her work in activism with a number of awards, including a Beacon Award in 2010 for leadership on behalf of disabled people. In the same year, she received a Disability Service Award for her using her research to advance access and accommodation for disabled people.
Alice served as a member of the National Council on Disability, to which she was appointed by President Barack Obama. She is also an advisory board member for Asians and Pacific Islanders with Disabilities of California, which aims to give a voice to Asian and Pacific Islanders with a disability.
Lois Curtis
Lois Curtis is a Black American artist and activist with intellectual and developmental disabilities including schizophrenia. Curtis paved the way for people with developmental and intellectual disabilities to get out of institutional settings and live within communities. She was institutionalized at the age of 11 and spent over 10 years trying to get out and into the community.
Lois Curtis also is one of the plaintiffs in the now famous 1999 Olmstead Supreme Court decision. This case was decided in part by the honorable late Justice Ruth Bader Ginsburg. To summarize, the United States Supreme Court held in Olmstead v. L.C. that unjustified segregation of persons with disabilities constituted discrimination in violation of Title II of the Americans with Disabilities Act. The Court held that public entities must provide community-based services for persons with disabilities as long as such services were appropriate and the affected person does not oppose community based treatment.
Curtis is a self-taught visual artist known for her portraits. A highlight of her art career was the presentation of her art to President Obama. She is now taking up singing.
Edward Verne Roberts
Was a pioneering leader of the disability rights movement. He was an activist that championed the rights of people with disabilities to lead independent lives. He helped found two organizations -- Center for Independent Living (1972), and the World Institute on Disability (1984). Both organizations are now located at the Ed Roberts Campus located at Berkeley.
At the age of 14 he contracted polio, barely surviving he had significant respiratory muscle and limb weakness, and atrophy. He slept using an iron lung but trained himself to breathe during the day. He was the first severely disabled student who relied on a wheelchair to attend the University of California, Berkeley, but not without a struggle. He was initially denied because a counselor declared it "infeasible" that he would ever work. However, he and his mom, Zona, an unrelenting advocate, prevailed. He ultimately secured federal funding to establish the Disabled Students Program at the university.  The first in the nation.
After receiving his bachelor's and master's degrees in political science he taught at Berkeley for 6 years. In 1975, Governor Jerry Brown appointed Roberts head of the California State Department of Rehabilitation. He held this position until 1982. This was the same government agency that had deemed it "infeasible" that he could work. Roberts was invited to speak throughout the world. He often told the story that he heard a doctor tell his mom, "You should hope he dies, because if he lives he'll be no more than a vegetable for the rest of his life."  Roberts would add, "So I decided to be an artichoke—a little prickly on the outside but with a big heart."
Marlee Matlin
In 1987, Marlee won the Academy Award for Best Actress for her role of Sarah in "Children of a Lesser God". She not only is the youngest actress to have won that award, she also is the only deaf actress to have won an Academy Award. The hope was that after Matlin won this award for playing a deaf character and being deaf herself the floodgates would break and stories featuring people who happen to be deaf or disabled would no longer be a rarity. After 35 years, Marlee is still waiting for that to happen. She credits her success largely to her parents who refused to send her away to a special school for the deaf. They chose instead to raise her themselves. "My father's favorite word was, try," Matlin said. "And he would spell it with his hand." He would say to me, "if they can do it, you can do it. Why would you let being deaf get in the way?"
Andrea Bocelli
The beloved Italian tenor was afflicted with congenital glaucoma from a very young age. That did not deter him from taking piano lessons at age six as well as later playing the flute and the saxophone. At age 12, he become totally blind after suffering a brain hemorrhage. Again, undeterred by his lack of sight he studied law while singing at piano bars and nightclubs. He did practice law for a year, but then decided on a musical career and studying voice with tenor Franco Corelli. Hugely success in his own right, he is also known for his duets with Sarah Brightman, Celine Dion, Josh Groban, Jennifer Lopez, and of course his friend Luciano Pavarotti.
Kodi Lee
On a Wednesday night in September of 2019, at the Paris Hotel in Las Vegas, Kodi Lee won America's Got Talent. He was singing his heart out, doing what he loved, and doing what saved him according to his mother Tina Lee.
He was born with optic nerve hypoplasia and underwent a life-saving surgery at just 5 days old.  He also was diagnosed with autism and Addison's disease. He was given a gift. He is a musical prodigy with an audio photographic memory. In other words, he can recall music he hears after just one listen. He won America's Got Talent by singing songs such as Leon Russell's, "A Song For You" and Simon and Garfunkel's, "Bridge Over Troubled Water," both garnering standing ovations from the judges—including Simon Cowell (and we know that is very rare). When he became AGT's Season 14 winner, he also became the first autistic person to win. Kodi, a Korean American hales from Lake Elsinore.
Alessandro Capoccetti
Alessandro was born near Rome in 1979 with a rate condition called Syndrome Gollop Wolfgang. Only 200 cases have been reported worldwide. The condition caused Alessandro to live his life in a wheelchair. And, that never stopped him.  He "works" as a professional photographer traveling the world and concentrating on showcasing the beauty of those that many just consider, disabled.  He serves as the Director of Models of Diversity which works towards inclusion of diversity in the fashion industry. In a recent interview he was asked about the challenges he has faced.  His answer was, "Having a disability means having to overcome lots of challenges. But I think that the strength I have and the will to live life to the fullest helps me to face any obstacles. When you have a passion for something, even the greatest barriers become smaller. What is important is to live every day with a big smile."
Terry Fox
Terry Fox is an iconic hero of our northern neighbors, and is probably unknown to the majority of us. We include him in this article to show that true, larger than life accomplishments can and do come from very normal and unassuming people. 
At the age of 19, Terry Fox from British Columbia, Canada, was diagnosed with osteogenic sarcoma. During his 16-month cancer treatment that led to his losing his right leg, this quiet teenager decided that he could not ignore the suffering he saw in the cancer wards. It was then and there that he formulated his plan calling it a Marathon of Hope. He decided that he would run to raise money that would be earmarked to help cure cancer. A simple decision that would put into motion an extraordinary goal. A goal that was forged from his deep belief in the people of Canada. He would run across Canada for donations!
On April 12, 1980, Terry started his journey by dipping his artificial leg into the Atlantic Ocean. He ran close to 26 miles each day through Newfoundland and Labrador, Prince Edward Island, Nova Scotia, New Brunswick, Quebec and Ontario. He ran through every kind of weather Canada could rain down on him. And, as he ran, donations for cancer research started pouring in. On September 2, 1980, Terry was forced to stop running outside of Thunder Bay, Ontario.  His cancer had returned and spread to his lungs. But the people of Canada did not stop their support.
Tragically, Terry died in British Columbia on June 28, 1981, one month short of his 23rd birthday.  In September of that year, the first Terry Fox Run is held at more than 760 sites in Canada and around the world. The event attracted 300,000 participants and raises $3.5 million. And, the support continued to grow exponentially. To date, the Terry Fox Foundation has raised over $850 million dollars for cancer research. 
"I believe in miracles"
WPCCU ends this article with a quote from, Terry Fox, "I'm not a dreamer, and I'm not saying this will initiate any kind of definitive answer or cure to cancer, but I believe in miracles. I have to."